For original "Musician's Friend" interview click below link
Star-Spangled Sounds: American Music Roots
A diverse collection of musicians reflect on how they've been shaped by the USA
The unique musical innovations born in the United States range from the internationally acclaimed pop and R&B of Detroit's Motown, to the rock and roll of New Jersey's Bruce Springsteen. Regional delicacies like Louisiana cajun and Tennessee bluegrass keep the world hungry for more American music. The basic ingredients of all of these sounds are the homegrown musical genres of blues, jazz, gospel, and country western, and each is as American as apple pie or hot dogs.
It's Only Rock and Roll—But it Can Change Your Life
Singer Glen Carroll is an American musician and veteran who has found success with a 

tribute band

 to the British Rolling Stones (who play American rock and roll—are you confused yet?). Carroll has seen a marked increase in American patriotism.
On the eve of Independence Day, we asked a wide range of amazing American musicians how the culture, geography, and history of the United States has influenced them, both personally and musically.
A couple of decades ago most professional musicians like myself could count on working every New Year's Eve performing at a function. I believe recently in the past decade the Fourth of July weekend has become a more celebrated holiday than New Year's Eve. Perhaps it is a combination of Americans becoming more in touch with their patriotic feelings in a post-9/11 world...The past 15 years I've performed every Fourth of July weekend. However, I have not performed every New Year's Eve in the past 15 years and that tells me where the demand is, where the American heart is.
The well-traveled Carroll understands the gifts that American life has offered him.
We've performed in Russia, China, Indonesia, Australia, Europe, Central and South America, and most large cities across America. I've never seen or read about any other country that offers the opportunities and rights to the average citizen that our country does. What other country can you think of where a kid growing up with modest means can become President of United States or perhaps become a pilot in the military or maybe even a rock 'n' roll musician?
June 16, 2014

Skope Reviews Sticky Fingers 'Like A Rolling Stone
Sticky Fingers is known around the globe as the premiere Rolling Stones tribute band, selling out venues and out stoning The Stones. Now, singer Glen Carroll and company have brewed up a delicious beast of an album "Like A Rolling Stone" that covers the musical terrain of the 60's and 70's era classic rock sounds.

The album kicks things off with "One Way Street", a hard rockin' track that reminds us why The Rolling Stones ruled back in the day, but this one is all original and is sure to get you movin'. The slide guitar is top notch.
"You Baby You" is a blues rock anthem that you would swear was penned by Mick Jagger himself.
Things slow down for "I Miss The Good Times", another bluesy number with soulful keyboards and dirty guitars driving the song.
"Knockin' On Heaven's Door" is definitely a staple of classic rock, and Sticky Fingers cover the song with the same finese and style fans expect from a band of this caliber. 
Next is "As Good As It Gets" a slide guitar blues banger that gets right back to the heart of the Stones sound, maybe mixed with a bit of "Bang A Gong".
"Tribute" is a mishmash tune, using the beat and melody from George Thorogood and the Destroyers or a slowed down "Bad Reputation" by Joan Jett. Lyrics are borrowed from several Rolling Stones songs, including "What's My Name" and "It's Only Rock-n-Roll".
"At First Sight" is a soulful blues ballad, it sounds perfect for that dive bar late at night where men go to drown their sorrows.
"Christine" picks up the pace and brings back the dirty R&R to a 3 bar blues rhythm. Plenty of guitar chops on this one, with tradeoff solos and a bouncing piano riff chugging along.
"Lady Blue" slows things down again with a loose but soulful blues tune. The horns add a nice touch to the song. The song captures the essence of 70's AOR, bringing to mind The Boss [Mr. Bruce Springsteen] as well as the usual suspects.
"White Roses" is a song about a lover who's married to another man. Some cool slide guitar and finger pickin'.
"Her Very Last Time" closes the album on a high note, pulling out all the stops with this adrenaline filled rocker, letting you know that Sticky Fingers is a real contender. 
In the world of pretenders, Sticky Fingers is at the top of their game. But Like A Rolling Stone shows us that they're a whole lot more than another cover band and they can certainly hold their own with original music that you swear you heard before somewhere but can't put your finger on it. Well, now you can. Check it out. 
March 28, 2014
#1 Top40 FM Main Chart
March 21, 2014
G back @ Capitol working on a new single
March 21, 2014
#1 Top40 FM Main Chart
March 21, 2014
Gwyneth Paltrow, G & Chris Martin 
Gwyneth Paltrow, Glen Carroll & Chris Martin performing together at House of Blues, LA
March 14, 2014
Gwyneth & G @ House of Blues, Los Angeles
Gwyneth Paltrow and Glen Carroll on stage at House of Blues
March 11, 2014
CLICK BELOW HYPERLINK 
http://www.jambands.com/reviews/cds/2014/03/11/sticky-fingers-like-a-rolling-stone
Like A Rolling Stone CD review by Brian Robbins
Capitol
It's a piece of work – it really is: the opening seconds are a bit of sweet and wistful late-night bass work, way up high on the neck, supported by gentle acoustic guitar and shimmering keys. The bass retreats to allow the acoustic guitar to step into the foreground, all snuzzly with the keyboard … and just when you expect someone to reach over to the nightstand and turn the light off –
WHAM!
A big ol' honkin' chord hits; and you can't help but wonder – just from that one chord – if it isn't … yes! That follow-up suspended chord has gotta be :::KEITH!::: fo' sho'; and as the guitars begin to snap and growl, eager to be unleashed, there's another
WHAM!
as the drummer hits the 1 like it was the last drumbeat on Earth and you hear two words:
"Yeah – alright! "
with enough drawl and swagger applied to get at least a half-dozen syllables out of the two words and you just know that voice belongs to :::MICK!::: and by the time that all registers, the whole band is rolling and tumbling like the old days, nasty horns and all.
Holy shit: new tunes from the Stones? Old treasure unearthed from the vault?
Would you believe: neither?
The track is "I Miss The Good Times" from the album Like A Rolling Stone – the best Stones album the Stones themselves never played on.
That Keef-as-Keef-gets guitar is none other than Mr. Richards' wingman in the X-Pensive Winos, Waddy Wachtel. Keep digging into the album credits and you'll find good ol' Bobby Keys on sax, who's been a part of Stones history since the Let It Bleed sessions; keyboardist Ian McLagan, who's been there and back himself with the Stones; and Bernard Fowler, who's been adding his vocal muscle to the Stones sound for years. The undeniable shake-your-butt rhythms throughout are courtesy of rock 'n' roll vets Kenny Aaronson on bass and Kenny Aronoff on drums.
And what about that voice – that voice? Well, that would be Glen Carroll, boys and girls: a longtime master of Mr. Jagger's sound and vibe – but pulling it off with the right blend of bawdy Mickness and rock 'n' roll soul as opposed to mimicry.
Carroll formed the original Sticky Fingers tribute band in 1989, made up of other players who admired the Stones sound and onstage hoodoo. The band's talents led them to gigs around the world, and eventually found them crossing the paths of the Rolling Stones family. Paying his dues with fierce dedication to creating the vibe of a vintage Rolling Stones performance in a live setting, Carroll's talents earned the respect of players such as Keys, Wachtel, McLagan and Fowler – and the recording sessions for Like A Rolling Stone ended up being the work of a supergroup with strong family ties to the Glimmer Twins themselves.
While the aforementioned "I Miss The Good Times" is the loaded-for-bear single off the album – packed with everything from McLagan's two-fisted piano and powerful soloing by Keys and Wachtel to classic Exile -style barroom chorus vocals – there's also plenty of music on Like A Rolling Stone that could easily be mistaken for just-leaked bootlegged Stones material from various periods.
The album opener "One Way Street" and the fiery "As Good As It Gets" both have a Steel Wheels vibe, while "Her Very Last Time" could be a kiss-off from the Some Girls era. The country rocker "White Roses" (which gets right down to bizness with the line "I can't send you white roses with your husband hangin' 'round") combines the soul of "Sweet Virginia" with the twang of "Faraway Eyes"; "Lady Blue" and "At First Sight" both nail that Jaggeresque mix of broken heart and cool; and tunes such as "Christine" and "You Baby You" acknowledge Chuck Berry's standing as the granddaddy of rock 'n' roll geetar. (Bo Diddley gets his nod with "Tribute".)
Whether you want to close your eyes and pretend this is a lost Stones album from an alternate parallel universe or take it for what it is, Like A Rolling Stone is a great album that stands on its own two legs. Possibly the album's oddest moment is a run-through of "Knockin' On Heaven's Door" – which basically asks the musical question, "What would it sound like if the Stones covered this Dylan tune?" … and even then, it's a solid performance.
So get your head around the fact that no matter who these folks sound like, they play some wicked rock 'n' roll – and most of it is original material, to boot.
Jonesing for some new Stones? Until the day comes – if it does – that Mick and Keith lead the rest of the gang back into the studio for one more go at it, Glen Carroll and Sticky Fingers are just what the doctor called for.
*****
Brian Robbins lives in an alternate parallel universe over at: 
Tuesday, March 4, 201

Sunday, March 2, 2014

 "Thank you friends and family - you helped get us here" 
Friday, February 28, 2014
#3 Top40 FM Main Chart

February 21, 2014
House of Blues sold out for next month's March concert
Friday, February 21, 2014
#5 Top40 Single  "I MISS THE GOOD TIMES"
Wednesday, January 8, 2014
2013 Top 10 Album
CLICK BELOW HYPERLINK
12-25-2013_Feature- Sticky Fingers_Top_10_Album
Sticky Fingers Top-10 album of 2013
Wednesday, December 18, 2013 
Sticky Fingers  #1 on ReverbNation / LiveNation
Saturday, September 7. 2013
Sticky Fingers  #2
Saturday, June 29, 2013
Sticky Fingers enters Top 10 Charts on ReverbNation / LiveNation
Satur
day, May 26, 2013
AQUARIAN WEEKLY album interview.
Hal B. Selzer, May 26, 2013
Sticky Fingers have spent the last 20 or so years touring the world, performing their legendary Rolling Stones tribute. Now they have released their own album, Like A Rolling Stone, and the Glen Carroll-led ensemble have created a record that sounds like what the Rolling Stones would sound like had they stuck to their heavy blues-tinged Get Yer Ya-Ya's Out!-era sound. And it should sound like the Stones; the band on the album is a supergroup of musicians who have all played with the Stones, as well as many other rock and roll legends. It includes Waddy Wachtel on guitar, Kenny Aronoff on drums, Bobby Keys on sax, Ian McLagan on keys, Bernard Fowler on backup vocals, and Kenny Aaronson on bass.
Over 20 years in the making, the recordings are the culmination of Glen's long time vision of where he wanted the band to go. I caught up with Glen and asked him about how the project finally came together.
How did you get such a renowned group of musicians together?
Creating this ensemble was really easier than you might think. All of the musicians have either recorded, toured, or both, with each other. It is nepotism at its best. A Darwinian talent selection of the "fittest and finest" finding its place in time and space.
You've been touring for many years; why did it take so long to get the debut Sticky Fingers album out?
I had a bet with Axl Rose about who could take longer recording their next album and I won. I've been writing songs for years and touring for more than a couple of decades. You hopefully learn a lot over the years. Admittedly, I took my sweet-ass time with this record but I recorded songs I like with guys whom I love. The rather lengthy gestation did allow the songs to evolve musically, like a fine wine. Given the choice betweenChinese Democracy or Like A Rolling Stone, which would you say won? Just kidding. I love "The Axl." I kid "The Axl."
How does the writing process work for you?
Mostly I write songs one of two ways. I'll either start with lyrics and add music later, or conversely, I'll come up with music and then write lyrics for the song. Generally, the idea for a song will come from a phrase or a situation that describes a feeling that is familiar to me. Occasionally a song will jump into your head with both. That was the case with "I Miss The Good Times." I was virtually humming it at the same time I wrote the lyrics. It would be nice if they all came that easily—that's what she said! Sorry, I love The Office!
How would you describe your music?
Our root sound is a blend of British Invasion, hard based blues, a splash of edgy country, mixed in with traditional Americana toe-tapping, heart-pumping, tear-jerking, tongue-in-cheek, ass kicking rock and roll. There's no denying we have a Stones-y energetic sound to our music. All of the musicians in this group have performed and/or recorded with the Rolling Stones. It's a very small school and the membership is exclusive. It was a real dream when this group came together. Each musician's contributions helped shape and hone this record into what it is today. I'm ever grateful to Kenny A, Bobby, Waddy, Kenny "Double A," Bernard and Ian McLagan.
How did you start out with the band?
I was drumming for the band when we first began. We were going through several vocalists a month. Some guys could sing yet had no stage presence. Some guys had all the stage presence in the world but couldn't sing. We also had tried out a couple of guys that may have been able to pull it off but they refused to work on religious holidays, their wedding anniversary, etc., or any occasion that they felt took precedence over our music. Vocalists can be a real pain in the ass. I guess "divas" exist outside the opera world!
And guitarists can have their own unique brand of artistic drama. Back in 1997, we got booked as musical guests on the Jenny Jones television show in Chicago. Right before the gig, the guitar player disclosed that he was afraid to fly and wasn't going and hadn't thought it pertinent to tell me. What he finally said was, "I guess it's time I have to drop out of the band, man." I had to replace him in 12 hours, get the flight info changed with the television station and rehearse with the new guy. That was an easy task. So then the new guy astonishingly leaves me hanging two months later. For whatever reason he didn't show up for a flight toPanama, while the rest of the band was already on location. Finding a "replacement guy" fromPanama with zero notice sucked! The wannabes and never gonnabes that you have to deal with in the early years make you really appreciate the real cats if you're lucky enough to last long enough!
I'm so extremely fortunate to work with these world class musicians who I can now call genuine friends. If you keep your nose to the grindstone long enough it doesn't matter how hard the adjustment bureau tries to hold you back. You can get what you want when it is time.
Any plans for live shows with this group?
This record was recorded with the intention of performing it live. We have to work around a lot of other tours. John Fogerty, Stevie Nicks, Rolling Stones, etc. I've already performed live with some of these guys but getting them all together is a bit like herding cats. We would prefer to have all the original artists—as would our fans—and that's understandable. I was at Kenny Aronoff's house last week and we were talking about touring for the future so our fans can expect some dates to support this record. We also discussed possibly recording a live album with new material that's already written, along with some of the favorites from this album.
If you could ask Mick Jagger one question, what would it be?
Has anyone ever told you that you look like Glen Carroll?
 March 18, 2013
Posted: December 13, 2013 
Thursday, December 13, 2012
Sticky Fingers Songs Confused with Missing Rolling Stones Songs
Over the past nine months, Rolling Stones fans have been sharing stories of confusion regarding eleven songs floating around the Internet. The mysterious songs were thought to have been lost recordings from a Rolling Stones recording session that took place in France, circa 1970. As it turns out, the songs were newly recorded songs by, Sticky Fingers. The songs appear on their recently launched CD, Like a Rolling Stone.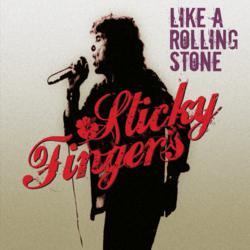 We hired Andy Johns as one of our  producers because he's worked with so many legends like the Rolling Stones, Jimi Hendrix, Led Zeppelin, Eric Clapton, Rod Stewart and many others.
New York, New York (PRWEB) December 12, 2012
On December 6, 2012, 

Sticky Fingers

 have revealed that the eleven songs that have been circulating the Internet since July 2012 are actually songs from their original CD release titled, Like a Rolling Stone. Rough, demo-versions of the songs have been circulating the Internet for the past six months, making many Rolling Stones fans believe that the tracks were songs missing from a Stones recording session that took place in France circa 1970.
It doesn't take much to excite fans of classic rock when buzz about lost or stolen recording begin to circulate, but this was different. Eleven songs were being passed around the globe that sounded to many to be in fact previously unreleased songs recorded by the Rolling Stones. The origin of the eleven songs could not be traced, bringing even more intrigue to the already frenzied situation.
As it turns out, the songs were the rough, demo versions of songs recorded by 

Glen Carroll

 and band, Sticky Fingers. Sticky Fingers has long been considered the world's best Rolling Stones tribute band, Now, having toured for over 35 years, Sticky Fingers both looks and sounds like the Rolling Stones. It only makes sense that a record released by them would fool even the most skeptical Rolling Stones fans
 The band is lead by lead vocalist, Glen Carroll. Originally hired to be the drummer, Glen took the vocal reigns in 1990, and has since taken control of the band and toured the globe. Plans to release a CD finally took hold in 2011, when Glen started assembling the talent.  He and 

Sticky Fingers

 have performed in 15 countries, appeared on over 20 television shows, and most recently were the featured topic in Steven Kurutz's book titled, Like a Rolling Stone: The Strange Life of Tribute Band.

In early 2012, Glen and some of the nation's top rock & rollers began recording the first original Sticky Fingers album titled, "Like a Rolling Stone". Staying true to the music was the goal, and because of that, Glen Carroll  joined forces with  musicians who both tour and record with the Rolling Stones. "
I wanted the record to be ours, but also a tribute to the Rolling Stones and people like Muddy Waters, John Lee Hooker, Howlin' Wolf , and more whom basically created what modern classic rock & roll is today. To do this, you naturally want and need to work with the best guys in the world, thus, Bobby Keys, Bernard Fowler, Waddy Wachtel, Kenny Aronoff, Ian McLagan and Kenny Aaronson.  All of these guys have recorded or performed with the Stones,
" Glen said smiling.
Before the Like a Rolling Stone CD was released, many of the rough demo tracks were being passed around between the musicians in order to hone and correct their parts. Apparently, someone got hold of the tracks and spun quite a story. Even YouTube videos were made by Rolling Stones fans claiming they had found the recordings. Even the rough demo tracks sound like the Rolling Stones. In addition to the musicians used to create the CD, the producer chosen for the project coincidentally worked with the Rolling Stones in the early seventies in France. All the parts were there to make the story believable. "We hired Andy Johns to produce because he's worked with so many legends like the Rolling Stones, Jimi Hendrix, Led Zeppelin, Eric Clapton, Rod Stewart and many others. If anyone can make a record that rocks like the Rolling Stones, it's Andy Johns", said Glen.
The CD Like a Rolling Stone can be bought on Amazon, 

CDBaby.com

 and 

iTunes

.
Posted: New York Times , Huffington Post 01/31/2012 8:13 am 
Stephen Colbert Super PAC Disclosure Reveals No Unlimited Contributions, Few Corporations

(The Band Sticky Fingers?)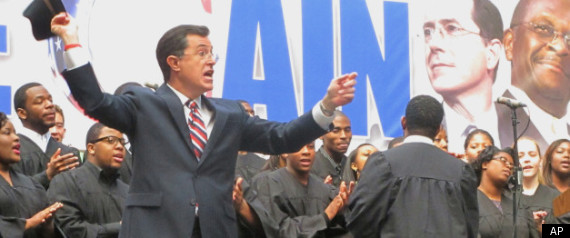 First Posted: 01/31/2012 8:13 am Updated: 01/31/2012 3:13 pm
WASHINGTON -- At 12:01 Tuesday morning, the most famous super PAC in America disclosed its donors for the first time. Americans for a Better Tomorrow, Tomorrow, the vehicle for much of comedian Stephen Colbert's recent hijinks

, disclosed that it had raised $825,475 

from its inception in the middle of 2011 through December 31.
While most political observers want to see which billionaires and millionaires are bankrolling the super PACs backing the Republicans competing for the presidential nomination, the Colbert super PAC did not receive similarly super-sized campaign contributions. In fact, 90 percent of the contributions to Americans for a Better Tomorrow, Tomorrow -- which can receive unlimited contributions from individuals, corporations, and unions -- came from donors giving under $250. Those small donors are not required to be listed on the super PAC's disclosure forms filed with the Federal Election Commission.
Colbert has repeatedly satirized the Supreme Court's Citizens United decision, praising it for opening the door to unlimited corporate campaign contributions. His super PAC, however, only received contributions from two corporations.  
Sticky Fingers Band (www.StickyFingersBand.com),
and BestDamnTutoring.com
gave $400 and $314, respectively. (You're welcome for the publicity.)
The filing came accompanied by a press release announcing that Colbert had reclaimed control of his super PAC from fellow comedian Jon Stewart, who had taken charge of the group while Colbert pursued his bid for the Presidency of the United States of South Carolina.
In a
separate filing
sent to the FEC along with the year-end disclosure, Colbert states that the super PAC has raised almost $200,000 more in the month of January alone. That brings the full total raised to $1,023,121.
Colbert is quoted in the filing saying, ''Yeah! How you like me now, F.E.C? I'm rolling seven digits deep! I got 99 problems but a non-connected independent-expenditure only committee ain't one!''
Throughout the past year Colbert has used his show, "The Colbert Report," to make fun of the absurdities of campaign finance law in the wake of the Citizens United decision. In a five-part series, The Huffington Post documented the comedian's use of satire to help explain the variety of ways
 that the campaign finance system, from super PACs to the FEC, works in often incomprehensible ways.
Posted: Monday, January 14, 2013
MUSIC NEWS    CBS.FM
Jukebox Jury Web Series: Should There Be A Rock & Roll Retirement Age?
Do the Stones still got it? (Ian Gavan/Getty Images)
THE CASE: After 50 years on the stage, should classic rockers consider hanging it up over a little thing like a 70th birthday?
Music icons like 

The Rolling Stones

 and 

The Beach Boys

 aren't just influences – they're still making new music and touring the world, as they both did to celebrate golden anniversaries in 2012. Meanwhile, their slightly younger peers 

KISS

 and Aerosmith released new albums last year without a hint of nostalgia.
Whenever they hit the road, 

Paul McCartney

, 

The Who,

 

Pink Floyd

's 

Roger Waters

 and 

Elton John

 have some of those year's biggest tours. While these musicians certainly don't need the money, fans are still packing the seats so why stop now? However, do rockers become parodies of themselves at a certain point, even the greatest ones? Should there be a retirement age for rock & roll, just like there is for other professions?
John Ostrosky, the co-host of TalkingMetal.com and the co-author of KISS guitarist Ace Frehley's biography, No Regrets.
Doug Vannoni, a musician who has played in bands that toured with the Mick Taylor Band and Pink!, as well as played in the NYC music scene since the 1990s.
THE JURY: 

Sticky Fingers

, a band that's toured worldwide for more than 35 years.
THE VERDICT: Watch to find out!
ENTERTAINMENT WEEKLY

"For those ROLLING STONES fans shut out of the band's tour dates by ticket prices and traveling, STICKY FINGERS is the next best thing!  On their summer tour of the Eastern seaboard, the band will be preforming three to four nights a week."
"I'm a huge ROLLING STONES fan but given the choice between seeing the STONES or seeing STICKY FINGERS I would rather pick STICKY FINGERS.  I've seen STICKY FINGERS and the ROLLING STONES both many times and I always have a better time at a STICKY FINGERS' concert."  Steve Kuruts - NPR Radio interview, Details Magazine, Playboy Magazine

HARD ROCK CAFE 
"Sticky Fingers is the first
and the only band that we
have ever named a drink
after and in honor of"
7/4/10

"Sticky Fingers totally rocked Silver Springs TwinOaks Ampitheatre today. I am sure that we will hear a lot more from this band." DJ from WIND, 95.5
8/14/10

 At an A-lister Long Island Fete, " All of New York is buzzing about SFB, so much fun!!! Thank you for your professonalism and for making the evening so memorable." A. Beard, NYC
10/4/10

  At a private celebration.  " Sticky Fingers was everything that we had heard about---and more. My bride was so surprised, and thrilled with the Stones experience. No doubt we will have you back in the future."   A.Cardone, NYC
5/9/11

 At a corporate event for Spyglass, Inc.  " We had a GREAT time-----and SFB was great. I'm certain that we will be working together again in the near future."            J. Sohn, Event planner, Los Angeles, CA
5/20/11

 At a veterinary cancer fund raiser in Deering Park, Portland, Maine. " Sticky Fingers staged a total Stones experience. With your eyes open or closed, the vibe was fantastic. The band was tight, professional, and really engaged the audience. They are at the top of their game."  G. D'Amico, event sponsor, Portland, ME
8/23/11

 At a private (wedding) event. " I could not have been more thrilled than I was on the night of our Sticky Fingers concert. My daughter and I are HUGE Stones fans, and the band just nailed it. I hope that Glen and the boys had safe travels home---and that they had half as much fun as we all did."  R. Vaden, Roanoke, VA
9/2/11

 At a private celebration, The Hamptons, NY. " Sticky Fingers stole the show with their high-energy, authentic concert experience. It's not an easy task to play for Stones fanatics. Our guests wouldn't let them leave the stage.  Glen Carroll is nothing short of amazing.."
K. Bickford, NYC
11/15/11

 At a private celebration. Hayfields Country Club " We just wanted to thank you and the band for the great show that you put on for our clients. We so appreciate all of your hard work which certainly made our event a huge success!"  S. Hannon, from Michele Damon Events (NYC)
11/30/11

 After reviewing two of Glen Carroll's original songs (future soundtracks for an upcoming movie), Director Robert Bernstein wrote " I love them both. You boys made that perfect."
12/15/11

 After singing backup vocals on LIKE A ROLLING STONE, ..." Man, I would like to play live with that band." Bernard Fowler, QLA Studios, Hollywood, CA
1/21/12

 At a private celebration,  The Ritz Carlton " Thank you for such a wonderful evening. The band was incredible....such a talented group!"  T. Vasko, Cleveland, OH
5/25/12

  "We received rave reviews about my husband's celebration. With the addition of Sticky Fingers, the party was over-the-top.! What do you give a man who has everything? The STONES!!!...a la Sticky Fingers.."            G. Colleran, Cleveland, OH
3/18/13

  After reviewing Glen's upcoming CD of original music..LIKE A ROLLING STONE,  " Glen's got a real rock and roll record there..and I'm happy to be on it. He needs to come down to Nashville and play with us.."             Bobby Keys, saxophonist extraordinaire for The Stones.